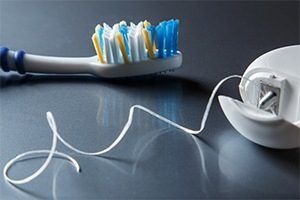 When it comes to caring for your teeth, there are certain habits that need to be upheld. How can you do that, though, when a great deal of your day is spent at work? Your dentist in Lawrenceville says the secret is to create an environment at your job that is conducive to your oral health. As you read on, you'll learn how to do just that and prevent dental problems from arising!
Keep These Items Handy
One of the ways to make oral care at work easier is to have the right tools available. Be sure to keep the following oral hygiene products on hand:
Floss – Dental floss allows you to get into the hard-to-reach spaces between your teeth to extract harmful bacteria and food particles that contribute to cavities, gum disease and other serious problems.
Toothpaste – Your toothpaste will come in handy for cleaning your teeth after eating a meal while at work. Be sure to purchase a brand that has the ADA seal on it to ensure that it's up to par.
Toothbrush – It's important to keep your toothbrush stored in a dry, clean place that allows you to easily access it. A two-minute cleaning session does wonders for your oral hygiene and health after eating a meal.
Water, Water, Water!
You already know how important it is to hydrate your body with water, but it also helps to rid your teeth of stains and your mouth of bacteria after eating a meal. To enhance both your oral and overall health, drink an eight-ounce glass of water before and after eating.
Don't Fall Prey to the Snack Attack!
Snacking or grazing may seem harmless, but from an oral health perspective, it doesn't give your teeth a break from being bombarded with food particles. Furthermore, many snack items are full of sugars and other unhealthy ingredients that contribute to bacteria growth and cavity development.
If you choose to snack on occasion, though, it's best to have healthier alternatives available like crisp vegetables to replace chips and fruits slices instead of candy.
Take a Deep Breath
Unfortunately, for many people the workplace can be a stressful environment. This can lead to emotional eating, which can compromise your oral health.
Another problem that can arise is teeth grinding due to anxiety. So it's imperative to take a moment to breathe and relax. This will lower your blood pressure, stabilize your heart rate, calm your mind and make you more thoughtful about your actions.
By implementing what you've learned here and visiting your dentist for regular visits, you will be able to enjoy excellent oral health. To schedule an appointment, reach out today!
About the Author
For over 30 years, Dr. Bruce Carter has been providing the Lawrenceville community with the best in dental care. A graduate of the University of Florida College of Dentistry, he has accumulated over 1,000 hours of continuing education, which has earned him Fellowship status with the Academy of General Dentistry. Dr. Carter offers comprehensive care at Transforming Smiles, and he can be reached for more information through his website.