TMJ/TMD Therapy - Lawrenceville
Escape Chronic Jaw Pain For Good
The temporomandibular joints (TMJ) may be a relatively small part of the body, but they have the big responsibility of controlling jaw movement and helping you eat and speak. When dysfunction and strain strike in these areas, debilitating pain can be the unpleasant result. At Transforming Smiles, Dr. Bruce E. Carter or Dr. Zafrani offers therapies that can alleviate TMJ-related discomfort in dramatic, lasting ways. He can also address bruxism (teeth grinding), which is one of the core causes of TMJ disorder. If you're located in Gwinnett County, don't hesitate to contact us and schedule a visit!
Why Choose Transforming Smiles for TMJ/TMD Therapy?
30+ Years Of Advanced Clinical Expertise
Personalized Oral Appliance Therapy Available
Comprehensive, One-On-One Consultations
TMJ Disorders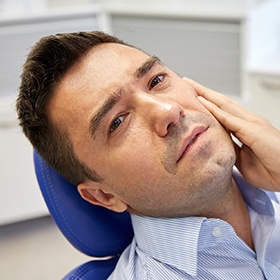 Nearly 10 million Americans live with temporomandibular joint (TMJ) dysfunction. Headaches, neck pain, clicking and popping in the jaw, teeth grinding, and difficulty swallowing are some of the symptoms caused by TMJ dysfunction, which is also known as TMD.
TMJ disorders develop because the temporomandibular joints, which connect the mandible to the skull, stop working properly. When the jaw joints don't open and close correctly, the related muscles and nerves become inflamed, which results in discomfort. Some of the external factors that place extra strain on these joints may include physical trauma, stress, excessive gum chewing or nail biting, and teeth grinding.
If you suffer from any of these symptoms, then you don't have to endure the pain. At our Lawrenceville general dentistry office, Dr. Carter and Dr. Zafrani will thoroughly assess your mouth to determine the factors that contribute to specific case of TMJ disorder. Once he has a full understanding, he can recommend a TMJ treatment that will help to restore your dental health and alleviate your discomfort. He may suggest non-surgical TMJ therapy such as bite restoration (also known as equilibration), over-the-counter anti-inflammatories, a custom oral appliance, or stretching exercises.
Bruxism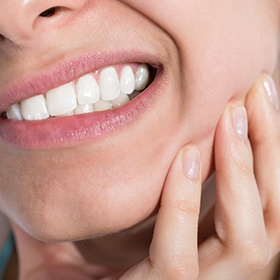 Teeth grinding is a common "bad habit" among children and adults, many of whom only experience it while asleep. There are several factors that can cause this condition (also known as bruxism), including anxiety, stress, caffeine exposure, untreated sleep apnea, and more. While occasional bruxism may not be too harmful, this constant pressure can eventually result in severe wear-and-tear for your smile, as well as chronic strain in the TMJ and related facial muscles. There are also many health problems that can arise from untreated bruxism, including eating disorders, depression, and insomnia.
There are several ways to relieve the symptoms of bruxism long-term, including the use of a custom-made "nightguard" that protects the rows of teeth while patients sleep. Additional strategies include facial relaxation, massages, the use of ice or wet heat, getting plenty of sleep, a soft food diet, and regular hydration. If Dr. Carter or Dr. Zafrani discovers during an appointment that you're experiencing TMJ-related pain or untreated bruxism, he will be happy to help you explore your options until you're found the relief you need to regain your quality of life.