Meet the Team
Every member of our staff is highly trained and educated. We properly vet and train everyone to ensure that they will always make our patients feel comfortable and at home in the practice. Each team member also possesses an immense amount of integrity and attends the annual Hinman Dental Society meeting to ensure that they are up to speed on the latest news, technology, and insight regarding the oral healthcare field. To learn more about each friendly face here in Lawrenceville, keep reading below: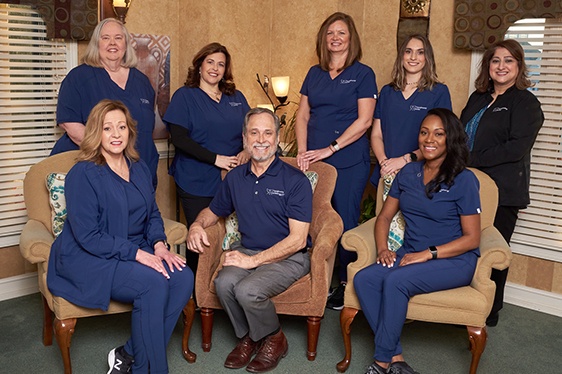 Rhonda Warner -
Dental Hygienist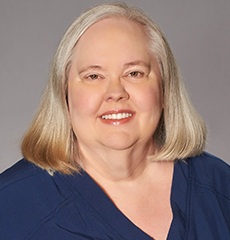 Prior to joining Dr. Carter's team in 1990, Rhonda worked for a periodontist for eight years. Overall, her career in oral healthcare spans nearly 35 years. Working at Transforming Smiles is a unique and fun experience because of the relationships that are formed with generations of patients. She likes getting to know families and helping show them how to keep their smiles healthy for life.
Outside of work, Rhonda has been happily married to her husband, Mark, for well over 30 years. The couple has two sons and four grandchildren. Rhonda is passionate about assisting others through her membership at 12Stone Church - Sugarloaf Campus, where she's a member of the greeting team. She stays busy in her free time by traveling, watching movies, and reading. She's proud to be Cajun by birth, Texas by the grace of God, and Georgian by choice.
Patty Horner Cordell -
Dental Assistant
Patty's dental career spans over three decades, starting when she decided to pursue dentistry in her junior year at high school with great passion. She earned her Associates Degree in Applied Arts from DeKalb College after she graduated from Avondale High School in 1979. She became a Certified Dental Assistant in 1980 and earned her Expanded Function Dental Assistant certification two years later. She expanded her knowledge with Lab Tech training in 1985 and achieved advanced training in CPR in 2001. While working with Dr. Carter, she also completed Implant Training in 2015, Oral Sedation Monitoring training in 2016, and Phlebotomy & PRP Training in 2017.
Patty is proud to be an important part of the Transforming Smiles family of dental health professionals and work alongside Dr. Carter. She is always eager about new techniques and technologies in order to further expand her knowledge in dentistry while helping Dr. Carter with restorative, cosmetic, and dental surgeries, including dental implants, extractions, and tissue grafting.
A lifelong Georgian, Patty enjoys the outdoors, gardening, reading, watching movies, and going to festivals. She is most happy when she's spending time with her grown son, daughter, and two grandchildren.
Sonia Weaver -
Office Manager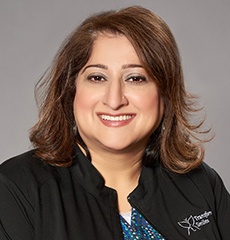 Originally from Athens, GA, Sonia earned her Bachelor of Arts in Sociology from the University of Georgia. She has been working in the dental field since 2017. Her favorite part of this job is interacting with the incredibly loyal and kind patients! Many have been visiting Dr. Carter since they were kids and now have kids of their own, which is amazing.
Outside of the dental practice, Sonia is married to a wonderful man who she met at the University of Georgia. She has two daughters as well, neither of whom have missed a day of school since Pre-K. She really enjoys watching movies in her free time, as well as hanging out with her loved ones, baking, and participating in game nights.
Teana Chakravarty -
Insurance Coordinator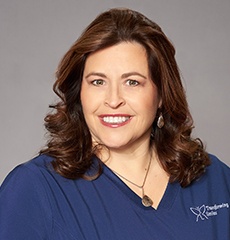 Teana attended the Gwinnett Technical Institute for her dental assisting degree and is also certified in Obstructive Sleep Apnea. She joined Dr. Carter's team in 2017, and her overall career in the dental world spans over three decades! She really loves working alongside the other team members and the wonderful patients.
Originally from Los Angeles, Teana is happily married with two daughters. Her passions outside of work are traveling, karaoke, and spending quality time with friends and family members. She also speaks Spanish and plays in a handbell choir!
Juliet Marie Malcom -
Registered Dental Hygienist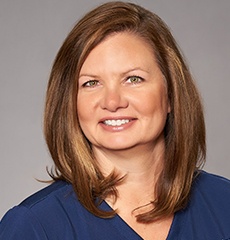 Although Juliet is new to our practice, she certainly isn't new to the field of dentistry. In fact, she graduated from Clayton State University over two decades ago and has been helping patients improve their teeth, gums, and smiles ever since! All these years later, she continues to love that each day brings with it the opportunity to build a genuine relationship with her patients and help them toward their optimum dental health.
ALEXIS CARTER -
PATIENT COORDINATOR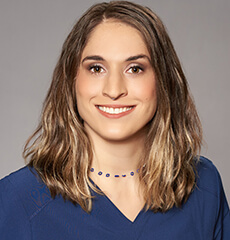 A Georgia native, Alexis loves seeing her friends, family, and neighbors happy with their smiles. It may just be her favorite part of her job! She is currently attending Gwinnett Technical College, and she looks forward to many more years in the field of dentistry.
Alexis has several pets, including a dog, two cats, and two gerbils. In her free time, she enjoys taking care of her houseplants and making moss terrariums. Here's something you may not know about her: her first job was on a dairy farm – she worked as a veterinary assistant for about 10 years!