Preventive Dentistry – Lawrenceville
Enjoy A Healthy Smile For Life
As the old saying goes, "an ounce of prevention is worth a pound of cure." We strongly believe in this principle at Transforming Smiles, which is why Dr. Carter and Dr. Zafrani encourage patients to undergo essential preventive care on a regular basis like professional checkups, cleanings, oral cancer screenings, and more. Our team believes in providing comprehensive care that focuses on the overall health and wellbeing of the patient, not just their teeth! Contact us today if you'd like to schedule a visit here in Lawrenceville.
Why Choose Transforming Smiles for Preventive Dentistry?
30+ Years Of Advanced Experience & Education
We See Children & Adults
Friendly, Knowledgeable Team
Dental Checkups & Cleanings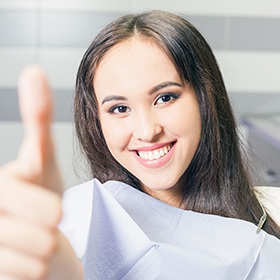 At our office, your questions and concerns will always come first. That's why regular checkups and cleanings are a two-way street, incorporating feedback from the patient so that Dr. Carter and Dr. Zafrani can make sure to address specific concerns in a wholeheartedly satisfying fashion. We encourage patients of all ages to visit twice each calendar year (or once per six months) for an in-depth examination and professional hygiene.
Learn More About Dental Checkups & Cleanings
Dental Sealants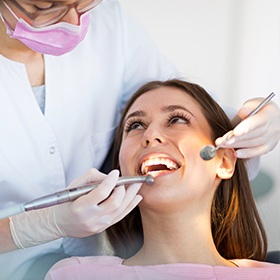 Dental sealants are a very simple service, but they provide excellent protection against the ongoing threat of tooth decay. Our team usually recommends them for children who are still learning how to brush and floss at home, although adults with extreme sensitivity to cavities may also benefit from their placement. The safe, plastic-based substance is painted over the deep chewing grooves and hardened in place as a "seal," blocking out harmful food particles and damaging bacteria from taking root.
Nightguards for Bruxism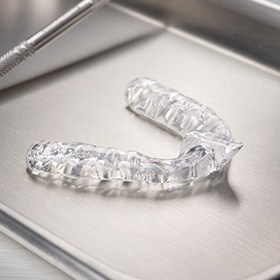 Has lingering jaw pain become a regular part of your morning routine? Do your teeth seem flatter and flatter as time goes by? These are tell-tale indications of bruxism, which is the fancy term for teeth grinding. Many patients don't even realize they struggle with bruxism because they only experience it while unconscious and unaware. If Dr. Carter or Dr. Zafrani determines that this condition is present during a routine exam, he can design a customized nightguard that keeps your smile safe as you sleep without worry.
Oral Cancer Screenings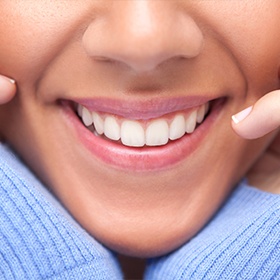 Tens of thousands of new cases of oral cancer will be discovered in patients this year; many of them will have already reached advanced stages. Early intervention is absolutely vital when fighting this deadly condition, which is why Dr. Carter and Dr. Zafrani have incorporated oral cancer screenings into every routine checkup. Your safety is of the utmost importance to us, and we'll always take a close look at the oral tissue, head, and neck for signs of abnormalities that need further attention.
Learn More About Oral Cancer Screenings
Fluoride Treatments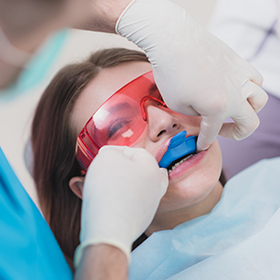 Fluoride is a natural mineral that can be found in the world all around us, from the oral hygiene products we use at home to the water that most likely pours from our kitchen sinks. Countless years of dedicated research and studies have shown a strong correlation between safe, consistent exposure to fluoride and healthier, stronger teeth that are less prone to decay. Our practice often recommends professional applications for younger patients during routine appointments for a valuable extra boost of smile protection.
Children's Dentistry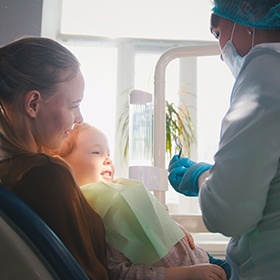 Being able to bring the whole family to one dental practice can save everyone lots of valuable time, and the Transforming Smiles team loves caring for smiles of all ages! By helping young patients have positive, comfortable experiences from the get-go, we can get them started on the right foot towards lifelong oral health. Several child-friendly services are available here in Lawrenceville, including dental sealants, fluoride supplements, and more.
Learn More About Children's Dentistry
Periodontal Therapy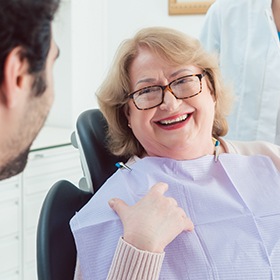 Gum disease is one of the most common health problems in the entire world, not to mention the clear leading cause of tooth loss among adults here in the United States. At Transforming Smiles, we provide dedicated screenings for this harmful infection during professional checkups and cleanings and can recommend therapy as needed to restore health to your smile, including scaling and root planing. The earlier we can intervene, the better!
Learn More About Periodontal Therapy
Sedation Dentistry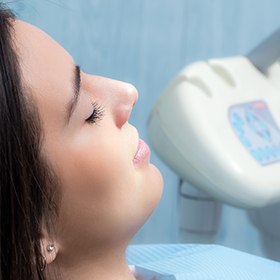 If the thought of an upcoming visit to the dentist's office makes you feel nervous or panicked, you're certainly not alone. Patients of all ages and from all walks of life struggle with these negative emotions on a routine basis, which is why our team puts so much effort into creating a genuinely comfortable, calm, and welcoming office environment. If a little extra help is needed, sedation dentistry is also available here in Lawrenceville to calm frazzled nerves. We offer both nitrous oxide ("laughing gas") and oral conscious sedation.
Sleep Apnea Screenings
Sleep apnea is a very serious sleep disorder that affects about 22 million Americans, leaving them feeling chronically tired and unfocused, and it can actually be difficult to notice on your own because symptoms primarily happen while you're asleep! We can screen patients for sleep apnea just by examining the anatomy of their mouth and throat, and if we notice something, we can have them work with a pulmonologist to get the treatment they need right away.
TMJ/TMD Therapy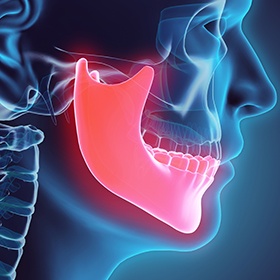 TMJ disorder (also called TMD) occurs when the temporomandibular joints that control jaw movement become strained or dysfunctional, whether through untreated teeth grinding, a misaligned bite, or even a facial injury. This condition can eventually cause severe, even debilitating pain. Thankfully, our team can help reintroduce lasting harmony to your overall smile through personalized therapy, including equilibration (adjusting the surfaces of certain teeth) and custom occlusal splints.