Dental Implants in Lawrenceville, GA
Rebuild Your Best Smile for Life!
Tooth loss can take a serious toll on your self-confidence. What's more, it can increase your risk for additional oral health problems, including gum disease and further tooth loss. At Transforming Smiles, Dr. Bruce E. Carter and Dr. Zafrani offer several options for tooth replacement. However, none are quite as effective, lasting, or transformative as dental implants in Lawrenceville, GA. With dental implants, you will practically see the hands of time turn back to when you had all of your natural pearly whites. Even better, Dr. Carter and Dr. Zafrani can perform every step of the dental implant process right here in our office. Contact our office today to get started!
Why Choose Transforming Smiles for Dental Implants?
Dental Implants Placed & Restored in One Convenient Location
Dentist with 30+ Years of Experience
Fair Pricing Without Any Hidden Fees
What Are Dental Implants?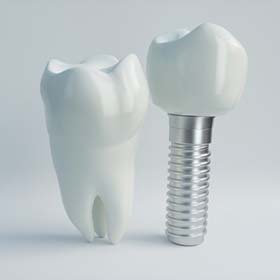 A dental implant is a tiny, screw-shaped titanium post that is surgically placed into the space in the jawbone where a missing tooth's roots used to be. After placement, nature will take its course and the implant will encourage new bone tissue to grow around it. This process, called osseointegration, allows the implant to fulfill the function of your natural tooth's roots. A metal fixture called an abutment is then attached to the top of the implant, which lets us secure a dental crown, bridge, or denture and restore the visible portion of your smile.
By reconstructing every single part of a missing tooth – something that traditional dentures and dental bridges cannot do – dental implants are able to replicate your real teeth in almost every way. They let you smile with confidence, chew your favorite foods, and enjoy replacement teeth that can last for several decades!
The Dental Implant Process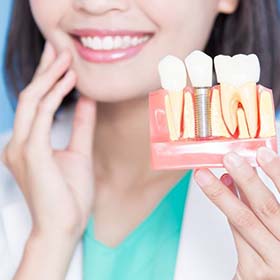 Replacing lost teeth with dental implants is a multi-step process that will require several appointments, including a comprehensive examination with Dr. Carter and Dr. Zafrani, the surgical placement of the implants into the jawbone, and the creation of a porcelain crown, fixed bridge, or similar restoration to cover them. That said, the benefits this solution offers makes the lengthy treatment process worthwhile! Here's a basic idea of what you can expect when getting dental implants.
Start-to-Finish Convenience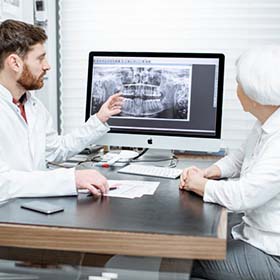 With well over three decades of experience and advanced training from prestigious organizations like the Pankey Institute and the Kois Center, Dr. Carter and Dr. Zafrani are uniquely qualified to handle even complex dental implant procedures in the comfort of his own practice. He will personally carry out each stage of the treatment process, from the initial extraction of damaged teeth to the surgical placement of the implant(s) to the design and placement of a brand-new restoration – and every step in between! This comprehensive approach saves our patients valuable time and money.
The Steps of Dental Implant Treatment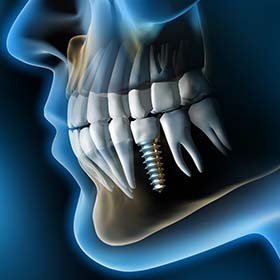 During your initial appointment with Dr. Carter or Dr. Zafrani, he'll evaluate your jawbone density and the health of your gums. We want to check if your dental implant will successfully bond with your jaw tissue before we take further action. When it's decided that you qualify for dental implants, we will plan your treatment.
First, Dr. Carter or Dr. Zafrani will surgically place your dental implant within the jawbone and gum tissue. This will be followed by a period of recovery during which your new implant will fuse with your soft tissue and bone.
Once we've determined that your dental implant surgery was a success, our team will attach an all-porcelain crown to your dental implant. Dental implants can also be used to retain bridges or fixed hybrid dentures – our restorative recommendation will depend on your personal needs and preferences. Each of these smile solutions can be made to look like a patient's actual set of teeth and are created to be essentially permanent. Speak with Dr. Carter or Dr. Zafrani to learn more about the many uses of dental implants and the benefits of bridges and fixed hybrid dentures.
Benefits of Dental Implants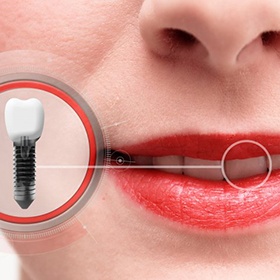 What makes dental implants superior to all of the other ways to replace missing teeth? A dental implant replaces the entire missing tooth – from the hidden root up through the visible crown. In this way, an implant is the most lifelike tooth replacement, helping you once again smile, speak, and eat with total confidence that your prosthetic will remain firmly in place. Compared to traditional dental bridges or dentures, dental implants are far and away the better option. Here are a few of the unique benefits they offer.
Day-to-Day Benefits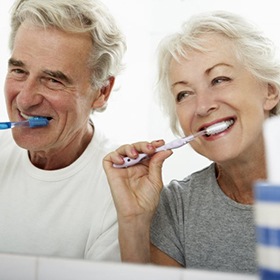 Boosted confidence – When you have a full set of pearly whites, you'll feel more comfortable showing them off to the people around you. Your newfound confidence could lead to better romantic prospects and even help you land your dream job!
Stable teeth – With dental implants, you'll never need to worry about your teeth shifting around or falling out. Thanks to their firm foundation in your jawbone, your prosthetics will stay in place at all times, allowing you to eat what you want and speak with complete clarity.
Easy cleaning – Keeping your implants clean doesn't require any special products. In fact, maintaining your new smile is virtually the same as caring for your old one. Just brush and floss every day, and see Dr. Carter or Dr. Zafrani for a checkup twice a year.
Health Benefits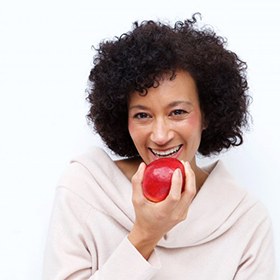 Expanded diet – Empty spaces in your smile, or a loose-fitting denture, make it hard to chew crunchy fruits, vegetables, and other nutritious foods. Therefore, your overall health suffers. Dental implants make it a cinch to get all of the vitamins and nutrients you need to maintain a healthy lifestyle.
Lower risk of gum disease – Because dental implants are easier to clean than bridges or dentures, they naturally reduce your risk of oral infections like gum disease. By avoiding gum disease, you also decrease your chances of developing the health complications associated with it, such as heart disease, Alzheimer's disease, and type 2 diabetes.
Healthier jawbone – After a tooth is lost, its roots are no longer there to stimulate the jawbone through biting and chewing. As a result, the jawbone gradually begins to deteriorate. Eventually, it may become unable to support the teeth you have left, so they may fall out as well. Dental implants are the only method of tooth replacement that fulfills this function of natural teeth, keeping your jawbone healthy and strong.
Long-Term Benefits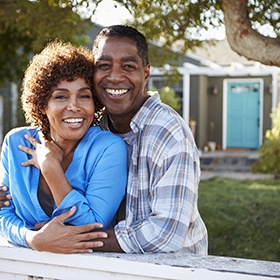 Younger appearance – Jawbone loss also has aesthetic consequences; over time, it causes the tissues in your face to droop and wrinkle, making you look older than you actually are. Since dental implants prevent this from occurring, they let you enjoy a youthful glow long after your natural teeth are gone.
Results that last – While a regular denture or bridge will rarely last for more than 10-15 years, a dental implant is capable of lasting for 30 years or longer. If you take proper care of it, it may even last for the rest of your life!
High success rate – Dental implant placement is a successful procedure in at least 95-98% of cases. Even after over a decade has passed, more than 90% of dental implant patients are still enjoying their replacement teeth to the fullest.
Who Dental Implants Can Help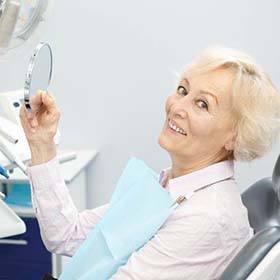 One of the biggest benefits of dental implants is their versatility. They can be used to revitalize smiles facing a wide spectrum of tooth loss, from a single gap to an entire missing arch. Specific restorative solutions are also available for each of these circumstances and can be matched with the patient's goals and preferences.
Missing One Tooth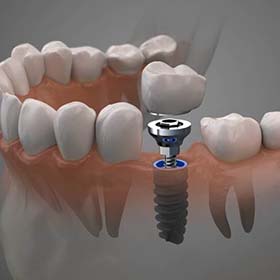 If only one tooth has been lost, Dr. Carter or Dr. Zafrani can pair an individual dental implant with a porcelain dental crown. This new restoration will fit right in alongside surrounding natural teeth, and its addition won't threaten the health of the existing dental structure either.
Missing Multiple Teeth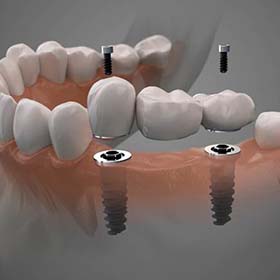 While implants-supported crowns can also be anchored in multiple places throughout the mouth, a custom bridge may be the more optimal solution if the lost teeth used to appear consecutively. This sturdy prosthetic is anchored in place with just two dental implants – one on either side of the gap.
Missing All Teeth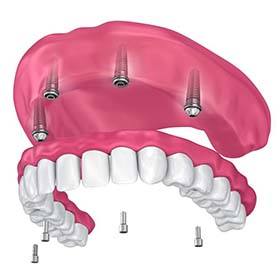 An implant denture can provide reliable, cost-effective coverage to patients who are struggling with drastically reduced smiles. Instead of partnering each new "tooth" with its own dental implant, we can instead strategically position a small number of implants to support a full, custom prosthetic. This style of denture can either remain removable or be permanently fixed in place.
Understanding the Cost of Dental Implants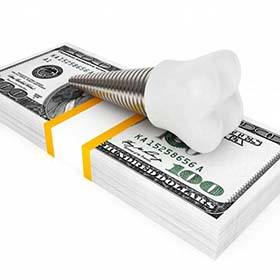 Although dental implants do cost more than traditional tooth replacement prosthetics, they are an investment that's worth making. While dentures and bridges will likely require repairs and replacements over the years, implants offer unparalleled stability and longevity. They can even thrive for the rest of the patient's life with the help of proper maintenance. If you take care of your new teeth, they will take care of you too!
There are several components to the dental implant procedure that will each incur a specific cost, including the surgical placement of the implant(s) themselves, the addition of a connector/abutment, and the design and creation of customized restorations on top. After an initial consultation, the Transforming Smiles team can provide a comprehensive and very clear rundown of all the financial information you'll need to know so that you can proceed with treatment confidently.
Types of Dental Implants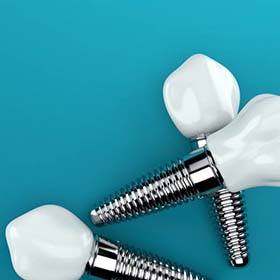 Dental implant posts and their surgical placement will make up the majority of the costs of dental implants-supported tooth replacement. Each dental implant post is customized to fit your unique needs. Dental implant posts are most often crated from zirconia or titanium. These two materials have been proven effective in seamlessly fusing with your supportive bone and gum tissue to provide support to anchor your replacement tooth or teeth. While the custom crafting and use of high-quality materials improve the chances for successful implantation, this quality does come at an added cost. However, until less precious materials have been tested and proven, these custom titanium and zirconia implants will remain the best option. In addition to the cost of the dental implant posts themselves, the complex surgical placement procedures can also be costly.
What Are the Stages of Dental Implant Treatment?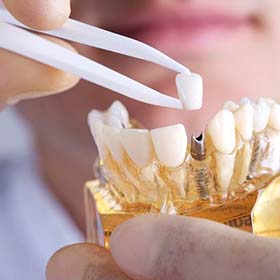 Before we get started designing, crafting, and placing your dental implant posts and replacement teeth, we will likely need to perform one or more preparatory procedure like a tooth extraction or tissue graft. After your smile is prepared, we surgically place the implant posts. Over the course of several months, the implants fuse with the gum and bone tissue. Once this process is complete, we'll attach the abutments. These are the connective pieces that affix replacement teeth to dental implant posts. When the abutments are in place, we'll capture bite impressions that are used by our lab to craft your dental crown, fixed bridge, or denture. When we receive your final restoration from the lab, you'll return to the dental office, so we can affix your replacement teeth to the dental implants, leaving you with a flawless new smile.
Are Dental Implants Worth the Investment?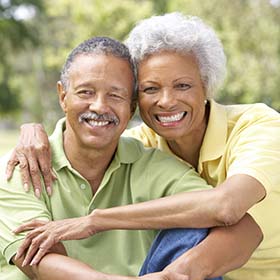 The time and monetary investment of dental implant tooth replacement can seem a little daunting, but most patients agree that the benefits far outweigh the initial investment. Some of the many advantages of dental implant supported tooth replacement include:
Semi-permanent – these restorations will last for several decades, and many people keep their repaired smile for a lifetime.
Natural function – the dental implants stabilize any number of replacement teeth, so they function just your own healthy smile.
Confidence – you'll look and feel your very best when you speak, chew, and smile with total confidence in any situation.
Improved health – because the dental implant posts replace tooth roots, the supportive bone and soft tissue is maintained and healthy tooth structure is protected, ensuring optimal oral health.
Does My Dental Insurance Cover Dental Implants?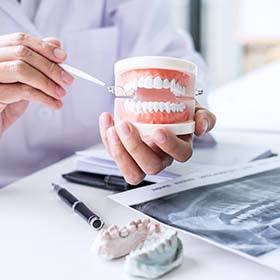 The vast majority of dental insurance providers don't offer coverage for the cost of dental implants or their surgical placement. However, other aspects of your treatment plan, like the preparatory process or replacement teeth, may be covered. Our knowledgeable team members will review your insurance policy and help you make the most of any available benefits.
Dental Implant FAQs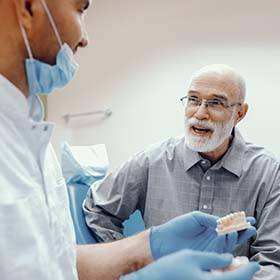 Before you choose dental implant supported tooth replacement, we encourage you to take as much time as you need to consider the pros and cons of your tooth replacement options. We know you'll have a lot of questions, and we've provided answers to some of the ones we hear most often in the section below. If you have additional questions or want to schedule a consultation appointment with Bruce E. Carter, DMD or Dr. Zafrani and the Transforming Smiles team, call our Lawrenceville dentistry practice today. We look forward to helping you create a gorgeous smile you'll be proud to share.
What Are Dental Implants Made Of?
Dental implants are available in a variety of materials. Traditionally, implants were made from titanium. This biocompatible material has been used in treatment for broken bones for years, and it makes a great implant post option for most patients. For those who have allergies or sensitivities to traditional dental metals, zirconia implants have proved to be effective alternatives. Additionally, these lighter-colored implant posts are less likely to be visible through the gum tissue over time.
How Are Dental Implants Placed?
Dental implants are surgically positioned below the gum line. While many patients shy away from this treatment when they hear it requires surgery, these implant placement procedures are minimally invasive. We simply create a small incision in the gum tissue. Then, the implant is positioned below the gums. Finally, a protective cap is placed. This cap protects the implant as it fuses with the gum and bone tissue. It also maintains the shape of the soft tissue so that we can attach the replacement tooth or teeth once the implants are firmly in position.
How Many Dental Implants Do I Need?
The number of dental implants needed will depend on the number and location of missing teeth. For a single tooth or two consecutive missing teeth, a single implant can usually be used to support one dental crown or two fused crowns. For patients with several consecutive teeth, a fixed bridge restoration will be crafted and attached to two implant posts, one at each end. For patients missing numerous consecutive and nonconsecutive teeth, implants-supported partial or full dentures will be recommended. We can typically use three to six implants to support a full denture.
How Much Do Dental Implants Cost?
The cost of dental implants varies dramatically based on your unique situation. To ensure you receive an accurate estimate, you should schedule a tooth replacement consultation in our Lawrenceville dentistry practice. During this visit, we'll walk you through every step of the dental implant process, including out-of-pocket costs and dental insurance coverage when available.
How Long Do Dental Implants Last?
Dental implants can last two decades or longer with proper care. In fact, most patients keep the same dental implants for the rest of their lives. It's essential to maintain proper in-office and at-home oral hygiene to avoid unnecessary oral health concerns that may lead to the loss the implant posts.
What Is the Dental Implant Success Rate?
Dental implants have a 95% to 98% success rate on average. With proper care, you can look forward to keeping your new smile secure and confident for decades to come.
Maintaining & Caring for Your Dental Implants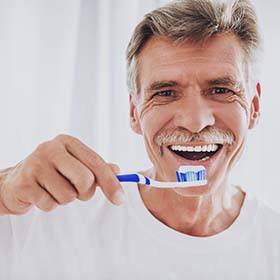 You'll care for your dental implants just as you do your natural teeth. Make sure to brush and floss daily because plaque and bacteria can cling to your prosthetic(s) just as much as they do your natural tooth enamel. If this happens, then you may be at risk for a bacterial infection known as peri-implantitis. Be sure to clean thoroughly around the gumline, where plaque tends to accumulate.