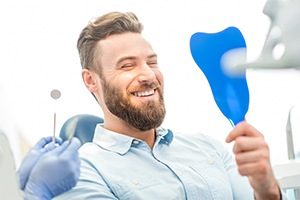 As another 12 month-cycle has almost completed, you're looking to tie-up any loose ends. One area that shouldn't be overlooked is your oral health, and since you're fortunate to have dental insurance, your dentist in Lawrenceville says make sure it's working for you and not going to waste. As you read on, you'll learn a simple yet effective way to maximize your coverage!
Preventive Care – An Ally of Oral Health
One of the ways to prevent dental problems from arising or to stop minor issues from becoming major is to visit your dentist semi-annually for the following:
Professional Cleaning – Having your teeth cleaned clears away harmful plaque and tartar that can lead to cavities, gum disease and chronic bad breath.
Careful Examination – A tedious check-up will ensure there are no threats to your oral health, and if any are identified, they can be addressed early on.
Consultation – You'll also be able to talk to both your hygienist and dentist about ways to improve your oral health and to learn the details of any necessary treatment.
How Preventive Care Saves You Money!
Along with providing a way to identify oral health issues, semi-annual appointments are also easy on your wallet. That's because they are either mostly or fully covered by your dental insurance. Then by preventing complex dental procedures that require more out-of-pocket participation, these visits save you even more money down the road.
The following shows how dental procedures are classified for the purposes of insurance coverage:
Preventive – Insurance companies applaud preventive care and will typically cover 80-100% of the costs of these visits.
Basic – Some of the more common forms of dental restoration like cavity fillings and root canals are classified as basic procedures. The average patient contribution is 50-80% of the costs.
Major – Dental crown restorations, bridges and dentures are considered major dental procedures. Patients will be responsible, on average, for up to 50% of the fees.
Use It or Lose It!
While six-month visits to your dentist are valuable, if you don't act on them, they will be lost. That's because your dental insurance renews on the first of the year. Thus, any unused visits from the previous year are simply forfeited. That means you don't get any return on the monthly investment you make into your dental coverage.
Now that you know the importance of taking advantage of your dental insurance, the next step is to act now by reaching out to your local dentist to schedule a preventive care visit. Thus, you'll be able to set a new trend for your oral health and carry the positive energy into the new year!
About the Author
With over three decades of experience practicing dentistry, Dr. Bruce Carter has had the pleasure of changing many lives through providing excellent dental care. A graduate of the University of Florida College of Dentistry, he takes pride in staying ahead of the learning curve by taking continuing education courses in several areas, including implantology, cosmetic dentistry and denture placement. Dr. Carter accepts new patients at Transforming Smiles, and he can be reached for more information through his website.