Emergency Dentist in LAWRENCEVILLE, GA
We See Dental Emergencies Fast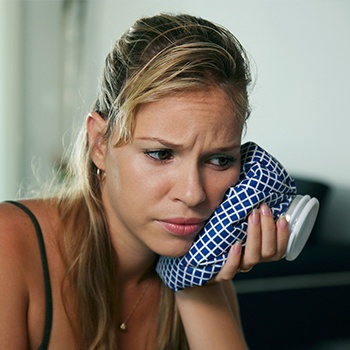 By nature, dental emergencies tend to strike at the most inconvenient times. Thankfully, Dr. Bruce Carter and Dr. Zafrani and the rest of our team at Transforming Smiles are here to help when you need us most. Instead of requiring you to wait days or week for relief, we'll schedule a consultation as soon as our schedule allows so that the severity of your dental injury and/or oral pain can be assessed. Our goal is to get rid of discomfort and create a confident plan for further treatment, whether that involves a new dental crown or tooth extraction. Don't wait – contact us today in Lawrenceville, GA!
Why Choose Transforming Smiles for Emergency Dentistry?
Same-Day Appointments
State-of-the-Art Reconstructive Services
Conscious Oral Sedation Available
How to Handle Common Dental Emergencies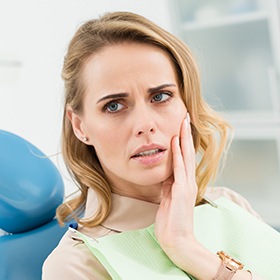 Virtually all dental emergencies fall into two major categories. There are physical injuries and facial trauma, which tend to happen suddenly and cause severe damage like chips, fractures, and even knocked-out teeth. Secondly, there are painful dental infections (also known as "toothaches") that occur when good oral healthcare practices are neglected to some degree. Below, you can find some helpful tips for how to manage some of the most common emergency situations until you're able to reach our practice for professional assistance:
Toothaches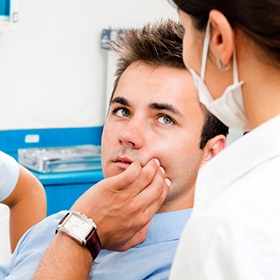 Toothaches are not something to be taken likely. That is why contacting your dentist to be seen immediately for an evaluation is so important. In the meantime, rinse the mouth with warm (not hot) salt water and, if your health allows it, take an anti-inflammatory medication. Do not under any circumstances crush the medication and put it directly on the tooth or gum area, as this may cause even more pain and irritation. It could even burn the gum tissue.
Chipped/Broken Tooth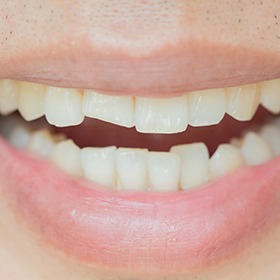 Teeth can be accidentally chipped through any number of activities, including playing sports, falling from a height, and even eating hard foods like ice cubes or tough bread. Call us right away and rinse out your mouth in case there are any small pieces of tooth remaining in your mouth. If you are bleeding, apply some gauze to the tooth area with a slight amount of pressure.
Knocked-Out Tooth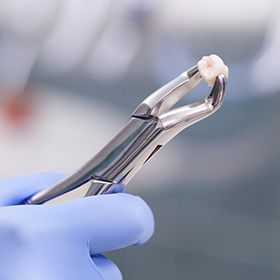 Dislodging or having a tooth forcibly knocked out can be an extremely scary situation. Other injuries to the mouth, jaw, and surrounding teeth may have also occurred, so stay calm and call our office immediately. Then, if you still have the tooth, avoid touching the roots – only touch the white part that is normally visible in your smile. Rinse the tooth with water and try to place it back in the socket. If you can't, place the tooth inside a cup with either milk or spit instead to help preserve the tooth and keep it moist. If you are bleeding, apply some gauze to the affected area and apply slight pressure.
Lost Filling/Crown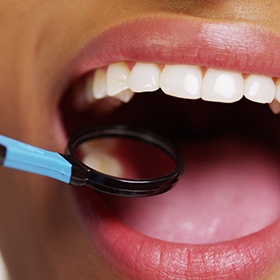 While lost fillings and crowns aren't considered true dental emergencies, they can still lead to uncomfortable sensitivity and pressure on the affected tooth or teeth. If you still have the crown, one temporary solution is to try to reseat it on the tooth with the help of denture adhesive or dental "cement," both of which can be found at the pharmacy. Make sure you schedule an appointment here in Lawrenceville as soon as possible.
How to Prevent Dental Emergencies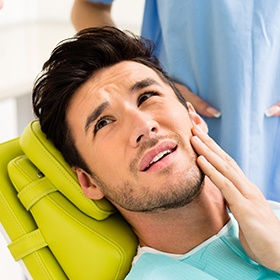 While it will never be possible to prevent dental emergencies with total confidence, there are effective ways to reduce you and your family's odds over the years. Try following these tips:
Brush twice a day, floss once a day, and remember to schedule professional checkups and cleanings twice each year! These visits help our team catch damage in its early stages and successfully prevent it from becoming a direr emergency situation in the future.
Don't chew on hard ice in drinks. Additionally, be very careful when enjoying foods that are sticky or tough to chew.
Always use scissors or similar tools to open difficult packaging. Don't rely on your own teeth.
If you or your child regularly plays sports that involve physical contact, make sure that an athletic mouthguard is always used.
The Cost of Treating Dental Emergencies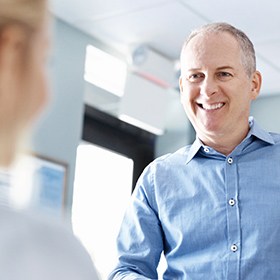 Every emergency appointment is different – sometimes, we can relieve pain and send patients on their way with a simple prescription, while other cases require extensive reconstructive care like dental implants or crowns. Our team will be sure to provide a thorough rundown of all cost components before any actual treatment begins. Transparency is important to us! We can also help you file dental insurance claims and make the most out of your deserved benefits.