Dental Crowns - Lawrenceville
Recover From Dental Injuries, Tooth Decay & More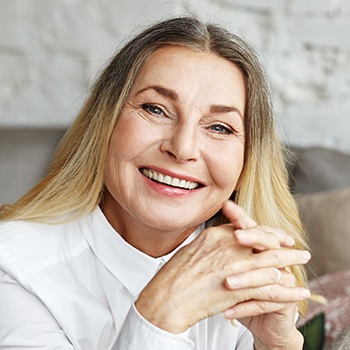 At the Lawrenceville dental practice of Dr. Carter, our team can use beautiful, lifelike, and very durable porcelain materials to create custom-made restorations for patients who've experienced dental damage. This includes crowns, inlays, onlays, and more, which are all painstakingly customized to help you get back to smiling brightly in record time. If you're located in the greater Gwinnett County area, contact Transforming Smiles today and schedule an initial consultation.
Why Choose Transforming Smiles for Dental Crowns?
Porcelain, Metal-Free Materials That Offer Premium Aesthetics
Over 30 Years In Practice
Dedicated Full Mouth Reconstruction Plans For Complex Cases
Porcelain Crowns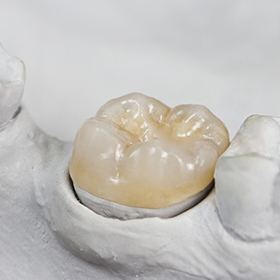 While a filling is capable of treating a small area of decay or a defect in a natural tooth, crowns are the most durable and lasting ways to repair cases of extensive damage for years to come. Dr. Carter and Dr. Zafrani are proud to provide very natural-looking crowns that can revitalize injured, discolored, broken, or weakened dental structure. The addition of a new crown can also close troublesome spaces between teeth, change their angulation, and even correct painful bite problems. They can be paired with bridges or dental implants as well for attractive, functional tooth replacement.
Inlays & Onlays
So you have an injured or decayed tooth that can't successfully receive a filling. Does that mean you have to automatically get a new dental crown instead? This isn't necessarily the case here in Lawrenceville. Inlays and onlays are often the perfect "in-between" option. They fit into a tooth in the same way that a filling does, but they're milled like crowns.
What is the difference between an inlay and an onlay? It all depends on the cusps of your tooth. The cusps are the raised bumps that appear on the top surfaces of dental structure. While porcelain inlays fit in-between the cusps, onlays cover one or more at a time. This restorative strategy allows patients to maintain a larger amount of natural dental structure, which is always the ideal outcome.
Is an Inlay or Onlay Right For My Smile?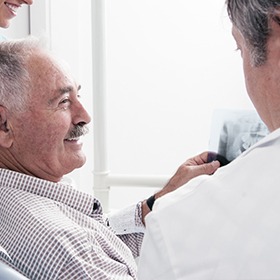 Not every restorative situation is the right fit for a new inlay or onlay. Dr. Carter and Dr. Zafrani will assess your particular needs during an initial consultation. The creation of a brand-new inlay or onlay will require at least two appointments here in Lawrenceville. During the first appointment, your natural tooth will be conservatively prepared through decay removal and a professional cleaning. We will also capture a precise dental impression and send it to our trusted dental laboratory.
When you return for your second appointment, Dr. Carter and Dr. Zafrani will be able to permanently cement the brand-new inlay/onlay into place within the tooth. After providing any necessary adjustments and tweaks, you'll be left with a smile that both looks and feels better than ever.
Patients from all over Gwinnett County and the surrounding cities (including Duluth, Suwanee, and Atlanta) are welcomed here at Transforming Smiles. Contact us today and schedule a first visit!