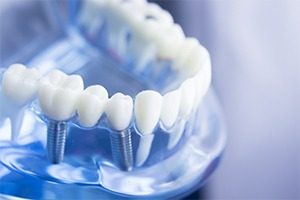 Whether you're missing one or a full arch of teeth, it can negatively impact your life. That's because the human mouth functions at its most optimal level when all of the teeth are in place. Thus, if even one is absent, it throws off the balance and can lead to oral health problems. However, with dental implants in Lawrenceville, you're able to get the relief you need. Your dentist explains how they work and what makes them so effective.
How the Dental Implant Process Works
Dental implants are made from high-grade titanium, which is known for its durability and sturdiness. The posts are surgically attached to your jawbone to act as replacements for your missing roots, and since titanium is a biocompatible material, they fuse with your existing bone over time to provide a level of stability that is only matched by your natural roots.
After the post is inserted, you'll be given instructions on how to care for the treatment site while your gums and jaw heal. Later, you'll have an abutment added, which is another titanium piece that connects the implant to a tooth restoration (porcelain crown, bridge or denture).
The Benefits of Dental Implants
When you have your missing teeth replaced with dental implants, here are some of the benefits you can expect:
Prevention of bone loss
Aesthetically-pleasing smile
Better pronunciation when speaking
Restored ability to eat the foods you like
You'll also have the security of knowing that your restoration won't move around, slip or fall out your mouth. This is because of the restoration being securely attached to the implant instead of relying on dental adhesive to hold it in place.
Who's the Right Candidate?
The right patient for the dental implant process will be someone who has reasonable overall and oral health (any infections or oral health issues must be addressed before implants are added). They will also have enough healthy bone for the implant to seat properly.
Your dentist makes these determinations when you visit for a thorough oral examination, which may include several X-Ray photos, a tedious examination and an explanation of how the process works from the implant specialist. If you don't have the necessary amount of bone mass to support the procedure, your dentist may perform a bone grafting surgery to build up the bone mass in the treatment area.
When you have dental implants placed, you can expect to have a renewed outlook on life, but it all depends on you taking the first step and reaching out to your dentist today to schedule a consultation.
About the Author
Since 1985, patients have been able to trust Dr. Bruce E. Carter with all of their dental health needs. The University of Florida College of Dentistry graduate has remained committed to providing the best in care throughout his career, which is why he has taken over 1,000 hours of continuing education, which includes advanced training in implant dentistry, restorative care and implant-retained dentures. Dr. Carter restores patients' smiles with dental implants at Transforming Smiles, and he can be reached for more information through his website.