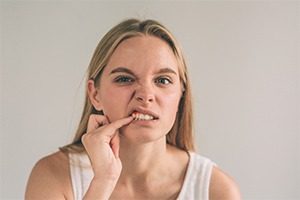 One of the most alarming dental health issues facing Americans is gum disease. Studies show that 85% of the adult population are dealing with some form of this condition, but can anything be done about it? The first way to combat gum disease is through education, which can lead to greater awareness and then action. With that in mind, your dentist in Lawrenceville explains the different stages of the condition and what can be done to prevent it.
What Causes Gum Disease?
Before we discuss the different phases of gum disease, let's first look at what causes the condition. It all starts with bacteria accumulation. Although bacteria are always present in your mouth, they grow and become more active when there are food and beverage particles left in your mouth.
They are especially attracted to sugars, and as they feed on them, caustic fluids are released that can lead to tooth decay. The bacteria can then form into plaque, a sticky, clear substance that can eventually work its way beneath the gumline.
Gingivitis – Stage #1 of Gum Disease
The initial phase of gum disease is called gingivitis, and at this point you may notice the following warning signs with your gums:
Swelling
Puffiness
Bleed easily
Redness in areas
Another symptom to take note of is persistent bad breath, which is the result of the increased bacteria presence. The good news is that any damage incurred in this phase is usually reversible, and in some cases, you may just need to make adjustments in how you perform your oral hygiene.
Periodontitis – Stage #2 of Gum Disease
If the bacteria are allowed to continue growing, the gum infection will grow worse. The result can be a more advanced form of gum disease where there is permanent damage suffered to the ligaments and bone that hold your teeth in place.
You may need to undergo a deep cleaning to remove the bacteria that have become trapped in pockets beneath your gums.
Advanced Periodontitis – Stage #3 of Gum Disease
The next progression of the disease is a more aggressive form that can dissolve the roots of your teeth over time and leave you vulnerable to tooth loss. At this point, you may need more invasive forms of oral surgery to restore your health.
Prevention is Much Easier
Instead of having to endure a complex treatment process to remove infected tissue and restore your oral health, it's much easier to focus on prevention. Here are some tips that can help in fighting gum disease before it can fully manifest:
Practice Excellent Oral Hygiene – Brushing and flossing your teeth on a regular basis helps to clear away unwanted bacteria and to prevent the onset of gum disease.
Make Healthier Food Selections – Another contributor to better oral health is to eat more whole foods like fruits and vegetables. Thus, there will be less sugar present for bacteria to feed on.
Visit Your Dentist Semi-Annually – When you maintain six-month appointments with your dentist for cleanings and check-ups, you are taking a major step in preserving your oral health and preventing the bacteria accumulation that contributes to gum disease.
Therefore, it's worth reaching out to your local dentist to schedule your first visit today. With the expert care you'll receive, you can keep gum disease and other potential oral health issues at bay.
About the Author
A graduate of the University of Florida College of Dentistry, Dr. Bruce E. Carter has been helping patients fight gum disease for over 30 years. Still, he remains driven to continue learning, which is why he has taken countless hours of continuing education, which includes advanced training in restorative dental procedures. Dr. Carter offers preventive dentistry at Transforming Smiles, and he can be reached for more information through his website.